Our Video Inspection Services
Sewer line video inspection is a cost-effective method for diagnosing problems within a drain, especially a large drain like a main sewer line. Using video equipment to look inside the drain pipe, we can more accurately identify and locate blockages or damage.
If you think you may have an obstruction or damage to a drain, we can quickly diagnose the problem and offer a free estimate to clear the line—without digging up your lawn or ripping holes your walls.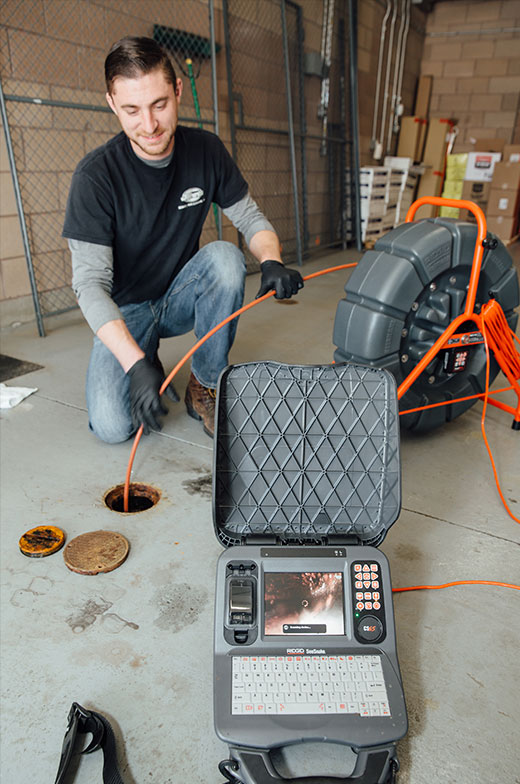 Reasons to have a sewer video inspection
What kind of lines should I consider having Video Inspected?
At John's, we have the equipment to properly video inspect almost any line. From sink and tub lines, up to Main Sewer Lines and Storm drain lines. We even offer complete home plumbing system video inspections. If you're having recurring issue with a line of any type or size, we'd recommend calling John's and letting us send an experienced Video Inspection expert to come diagnose and locate your problems.
How sewer line video works
Video inspection involves inserting a tiny camera into your sewer line or drain. The camera is on the end of a long cable, just like the snake, so we're able to run it down the line to find the problem.
We use video inspection equipment capable of searching up to 400 feet of line, working inside diameters as large as 10 inches and as small as 2 inches. The camera has a transmitter that sends a signal to a locator used above ground. This allows us to determine where the line is going as well as to pinpoint the exact location and depth of a problem area.
Digital record of inspection
When we use video inspection on a sewer line, we record what we see and can produce a DVD or digital copy of the procedure. This allows you to see the problem for yourself, and it allows us to provide an accurate, free estimate for your repair. In addition to keeping a DVD of the inspection, you will also receive a report detailing potential problems, their severity and exact location.
Because we are a full-service sewer and drain cleaning specialist, we can do all the necessary excavation and repairs to get your sewer or drains up and running. We may suggest a discounted preventive maintenance program to keep the line running. If the problem is more serious, we can excavate and repair or replace the line for you.